This is a question I try to ask myself at least three times year. Because when you really think about it, after a certain age new things just don't come around that often. As an unfortunate result, you actually have to go out and create these new experiences for yourself. Sometimes, this can be a lot easier said than done for some people. As for me, this is my first blog, and so far I've found this blog is a much better way to detail my adventures and mishaps than Snapchat or Instagram.
If we're going to be friends, you should know that I'll never stop seeking a new adventure, gravity and I have a fun little relationship, and that I am the best-known living model of Murphy's Law. Also I'm a proud pitti parent, I have an all white pit/ lab mix her name is Pepper. She is always down for an adventure or a snuggle day, she loves the beach more than anything. If you ever meet her you'll see that she is just the sweetest dog and only has a face of the misunderstood breed.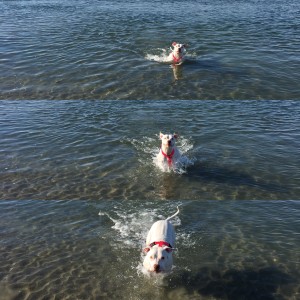 So in an attempt to escape the overwhelming boredom of Hot Springs, Arkansas, I packed up my entire life and moved across the country. Moving is scary for anybody, there's just so much uncertainty that comes with unknown, but I'm not the kind of girl who ignores my own curiosity. I've always dreamt of coming to California but never actually had the audacity to do it until last summer. I moved out here because I wanted to work on my life and some personal projects, and in Arkansas that just wasn't happening for many reasons. So June 2015 I went to Electric Daisy Carnival Las Vegas, boy, was that an experience that ill have to come back to. After Vegas I came to Carlsbad to see my best friend and when I drove into California, it was like for the first time in my life I was totally right in what I was doing there really wasn't a doubt in my mind that this was where I was meant to be. Once I was here I knew I had to do what ever it took to achieve this happiness that I felt.
All I could think about the day that I left Arkansas was how I was never going to return. Now that I'm finally here, I can see that all the years I put off coming out here was nothing more than a fear of being so far away from everything I've known. Those of you who know me might find this to be kind of hard to believe, because I've always been the adventurous type. Obviously going and doing things has never been an issue for me, but moving 1600 miles away from everything I know effectively scared the living shit out of me. Just typing that makes me cringe, because I always look for new ways to stretch the boundaries of my comfort zone.
Everyday in San Diego poses a whole new set of challenges for me to overcome, but I'm enjoying every minute of it. I still wake up every morning like its Christmas because I made it to California. Even if all the pieces haven't quite come together yet, I have the most spectacular feeling about being here. Coming to California has taught me a lot about myself, and even more about what I am capable of on my own. I've learned to be more patient with myself, more flexible when it comes to handling situations, and trying not to let things get me down as easily as they once did.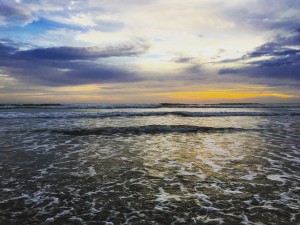 I have to say, living by the ocean has made it much easier to adjust. I'm a firm believer in the ocean's ability to heal a broken mind, and I honestly don't think I could ever live more than one hour from the beach ever again. Anytime I'm sad, or just not feeling 100% awesome I roll up a joint, load my dog up and head to the beach. It really is the best way to get out of my head. I just really love the sounds of the water and when I'm out there because it clears my head enough so that my thoughts move in slow motion. This usually helps me sort the good from the bad, the necessary to all the unnecessary craziness. And for the days that this doesn't do the trick, California prescribes the combination of yoga, avocados and sunshine to take my stress away.
I encourage everyone to stop and take a second to think of the last time you did something for the first time. You probably don't have to move across the country, but you should try to do at least one thing that scares you each day, and at least one thing you have never done every other month. It is far too easy to fall victim to the cycle of adult life, and taking the time to ask yourself this question can make a world of difference. Trying new things will keep you young, happy and it will make all of your friends jealous of your instagram feed. Everyone loves a good story, especially when they themselves were too scared or too busy to do all of the incredible things you're doing. I look forward to sharing my experiences with everyone, Here's to staying positive and knowing the best has yet to come.
Have a great day.
-KCLC